"Your gift empowers women in Africa to use technology to innovate and solve problems in their communities. We enable self-help, not aid. We fund change, not charity…."
Without the general commitment of donors, there would be no change. Your contribution is part of the solution and in all we say a big. 
 Thank you!
EQUIP AN EDUCATIONAL INSTITUTION
$ 1,750 – SPONSOR TRAINING AND EQUIPPING OF ONE STEM COLLEGE CHAPTER
We currently have 15 chapters across 5 African countries, each chapter constitutes 3 – 6 African college students who participate in our College-to-Secondary mentoring program. Each college chapter is lead by fellows who are trained and equipped with STEM-in-a-bag kits, to perform 1 – 2 monthly outreach and mentoring programs to neighboring secondary schools within African countries.
Potential Impact/Reach:
 1000 – 3000 Public secondary school girls per year.
Goal:
 Give college students avocation for public secondary education and teach role modelling and volunteerism. Mentor and provide role models to secondary students, especially girls to choose STEM careers.
$ 750 – TRAIN A PUBLIC SCHOOL TEACHER AND EQUIP WITH A STEM IN A BACKPACK KIT.
Trained master teachers run on-going STEM clubs within their schools. The STEM-in-a-bag kits provide enough STEM kits to run hand-on programs for 20 students, building problem solving and creativity skills in public schools. This gift is a one-time gift that keeps on giving.
Potential Impact/Reach:
 100 – 150 Public secondary school students/year with a focus on girls.
Goal:
 Train and excite STEM teachers on hands-on, gender-sensitive pedagogy. Create on-going STEM activities for public students. Inculcate innovation, creativity, and problem-solving skills in public school students
$ 600 – SPONSOR ONE PARTICIPANT IN OUR AFRICA CODING BOOT CAMP.
This program equips young Africans with cutting edge coding and entrepreneurship skills and works to ensure they either are placed in a Tech-focused job within 5 months of graduation or create a tech-enabled startup that should have at least 7 employees within 3 years.
Potential Impact/Reach:
 1 post-college student. This program has the deepest impact.
Goal:
 Economically empower an African girl by training her to acquire 21st-century employable skills in cutting edge technology and software development to either work in a technology field or start a tech-enabled enterprise that creates jobs.
$ 550 – SPONSOR ONE AFRICAN GIRL STUDYING A STEM COURSE IN AN AFRICAN UNIVERSITY.
$550 Scholarships are awarded to economically disadvantaged bright students to support tuition and living expenses. $50 is an administrative overhead cost. This scholarship is renewable each year, contingent on the scholar's continued academic success and active engagement in the College-to-Secondary outreach programs.
Potential Impact/Reach:
 1 College student. This program has the deepest impact.
Goal:
 Support an African girl to complete a STEM college education and pursue careers in Technology and STEM.
DONATE BY CHEQUE OR WIRE TRANSFER
Make cheques payable to EDUFUN TECHNIK and mail to
shop 4 Onitsha Mall Shoprite GRA Onitsha, Anambra Nigeria
Account Name: Edufun Technik
Account Number: 5600204321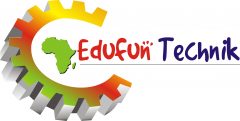 Many companies provide employees with the benefit of matching their gifts to a 501(c) organization. An employee's charitable gift may be matched by his or her company up to 3:1. which can double or triple the impact of your donation. Edufun Technik is listed as a non-profit partner with many international organizations. Please check with your human resources department to learn about your company's matching gift program.
ALL DONATIONS ARE TAX-DEDUCTIBLE
The Internal Revenue Service (IRS) has determined  Edufun Technik STEM Foundation, to be exempt from federal income tax under section 501(a) of the internal revenue code as a non-profit organization as described in section 501(c)(3). issues a receipt for tax deduction purposes at the end of every year.. Edufun Technik Foundation is also registered as a non-profit organization with the Corporate Affairs Commission in Nigeria.