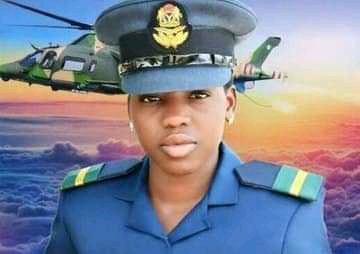 With a heavy heart we mourn the sudden passing away of Tolulope Oluwatoyin Arotile, a 24-year-old female Combat Helicopter Pilot whose young life was sniffed out by a ghastly automobile accident on 14 July, 2020.
Born on December 13, 1995 to Mr and Mrs Akindtunde Arotile in Ijumu Local Government Area, Kogi State, Ms Arotile has always had the dream of becoming a Pilot even at her early age. And when the Nigerian Defence Academy started a program to recruit young women into the Armed Forces, she quickly applied.
Tolulope's enrollment into the Nigerian Defence Academy as a Flying Officer not only proved that young women can have big dreams, but also shows that they can become successful in any field even in ones originally "designated" to only men.
Just like Officer Tolulope Arotile, the NDA program is meant to offer, among many other things, equal opportunities to ambition-driven female officers in the Nigerian Armed Forces, to succeed in their chosen career, irrespective of their gender.
On behalf of the management of Edufun Technik and its entire staff, I, Mrs Uchenna Onwuamaegbu-Ugwu, the CEO of Edufun Technik wish to console the colleagues and the family of late Flying Officer, Mr and Mrs Akindtunde Arotile.
Your daughter was a courageous citizen who challenged herself beyond the circumstances of her social and educational background, to serve her beloved country, Nigeria, and her countrymen.
Her legacy as the first female Combat Helicopter Pilot in the Nigerian Defence Academy will continue to serve as a great inspiration to many Nigerian young girls, to believe in themselves, pursue their career choice with confidence, and to commit themselves to contributing to national development in their own individual capacities.
May her soul rest in peace. AMEN!
#NDA #NAF #TolulopeArotile #Aviation #Nigeria #YoungGirls #Inspired #Women #WomenEmpowerment #GenderEquality